Blog Challenges
Forever Nigella #16 'Afternoon Tea'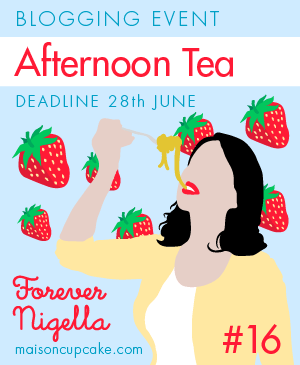 Finally summer seems to have arrived in good old Blighty, and I am loving every minute of it. Summer dresses, BBQ's, picnics, homemade elderflower champagne, holidays, ice cream, gardening, trips to the beach, strawberries, british flowers, and a cool mojito at the end of the day are just a few of the things I love about summer.
Give me any excuse and I will be inviting friends over at the drop of a hat. I'd have bunting up all the time if I could. So when the opportunity came up to host Maison Cupcake's Forever Nigella blog challenge it did not take me long to decide on 'Afternoon Tea' for the theme. I'm always looking for inspiration to create food suitable for such an occasion so hosting this challenge is going to make me one happy lady.
Entering Forever Nigella
To enter this month's Forever Nigella, prepare and blog one of Nigella's recipes, relevant to the theme of 'Afternoon Tea', then submit it to the linky below. I will post a round up of all the entries on 1st July.
The rules are as follows:
1. Blog your entry by 28th of the month showing:
a) the current Forever Nigella badge
b) a link to this announcement post
c) a link to the Forever Nigella page at Maison Cupcake: http://blog.maisoncupcake.com/forever-nigella
n.b. posts must have been published since the announcement post. Archived posts need to be re-published afresh if you wish to submit.
2. Remember copyright.
You must NOT reproduce Nigella's recipes verbatim. Tell us which book it is from and/or link to it online. If you've adapted the recipe in some way i.e. changed at least two ingredients or amended the method then it's ok to publish the a recipe in your post but you MUST write directions in your own words.
3. Submit your post
Email me the link to your post (fleur@homemadebyfleur.co.uk), copying in Sarah (sarah@maisoncupcake.com).
Also please do enter the linky below.
You can also tweet your post quoting #forevernigella. Find me @homemadebyfleur and will retweet any that I see. You will find Sarah at @MaisonCupcake.
;
;
Chocolate and Cherry Trifle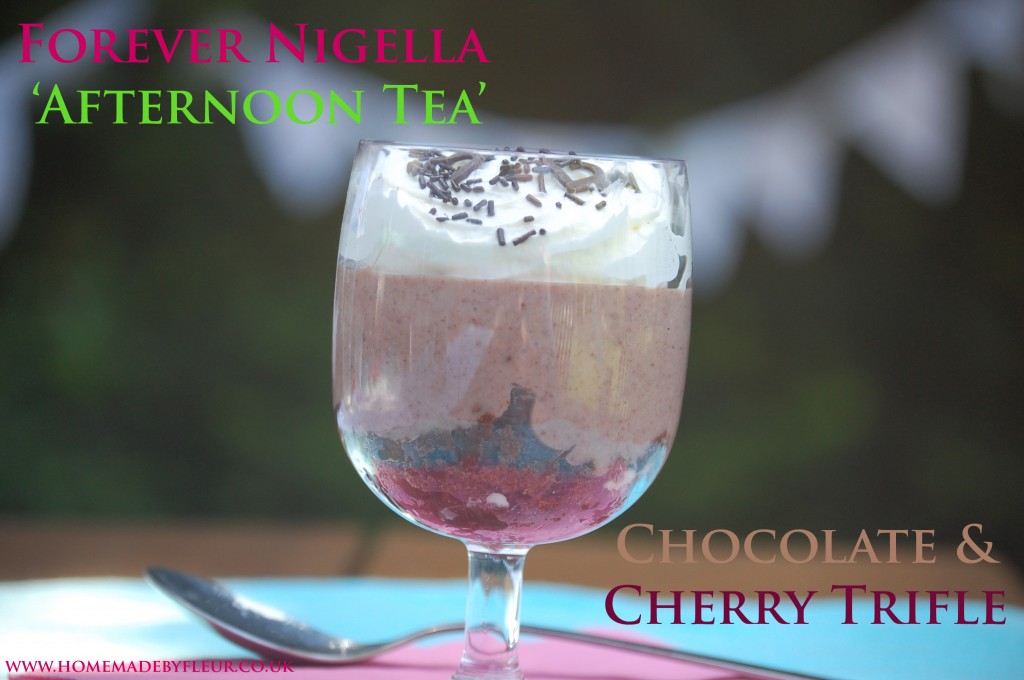 To get you all in the spirit I have made my own Forever Nigella 'Afternoon Tea' entry. I've been craving this dessert ever since I went to the Tesco Real Food Jubilee Masterclass and tasted one there. I'm talking about the old British classic of trifle. This is trifle with a twist though as it has cherries, cherry brandy and homemade chocolate custard in it. Don't be put off by the homemade aspect of the chocolate custard. I'll let you into a little secret…I was a custard making virgin before this trifle and I found it much easier than I expected. As long as you heat the custard mixture slowly it should not curdle and what you are left with is the most deliciously tasting custard ever! I have high praise for Nigella as she could gave quite easily directed her readers to a shop brought alternative. Another aspect of this recipe that appealed to me was the absence of jelly. I'm not a jelly fan, so this was perfect.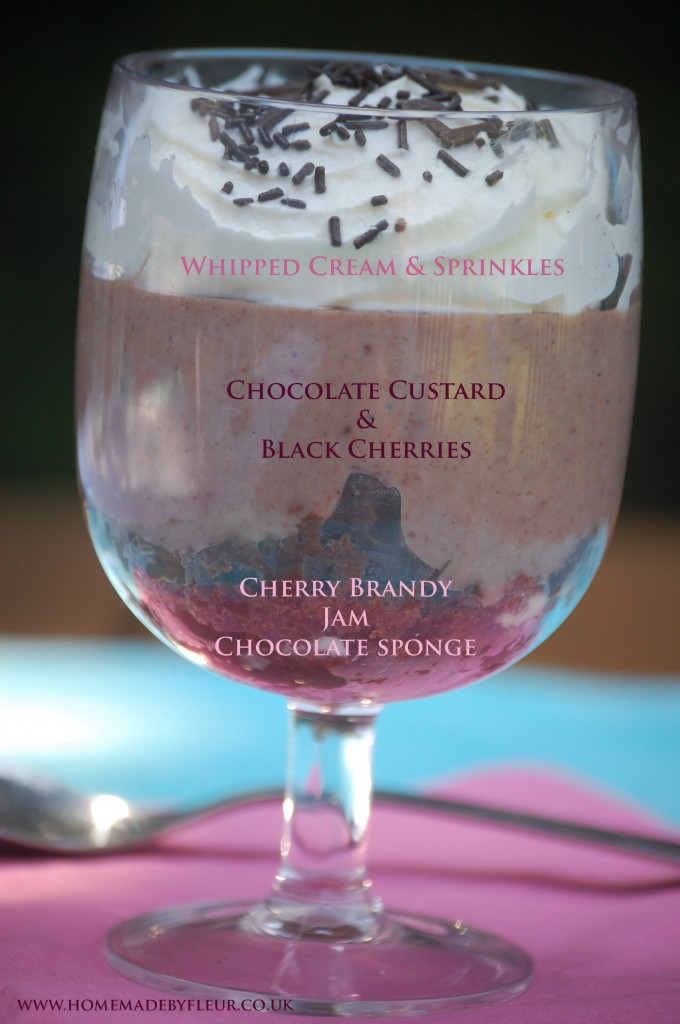 I also ended up making the chocolate sponge to go at the bottom. I just whizzed up a fatless sponge which is easily remembered, even if it is on old measurements by 6, (eggs) 6, (oz caster sugar) 6, (oz SR flour). I also added 1oz of cocoa powder. It's made by whisking the eggs and sugar on high speed until they have doubled in size then folding in the flour and cocoa. Divide into two sandwich tins and cook at 180c for 20 mins. This cake is perfect for soaking up the cherry brandy and in my opinion a bit lighter than the loaf cake recommended in the recipe. The great thing was that I only needed to use one of the cakes so have frozen the other one to use in my next trifle.
I halved the quantities for the rest of the trifle and had a play around with making one big one (suitable for 4-5 people) and a couple of little ones which you can see in the pictures.
My reward for all this hard work? 15 mins sitting down outside indulging in my trifle in true 'Nigella style', and I've got to say this is definitely worth the effort!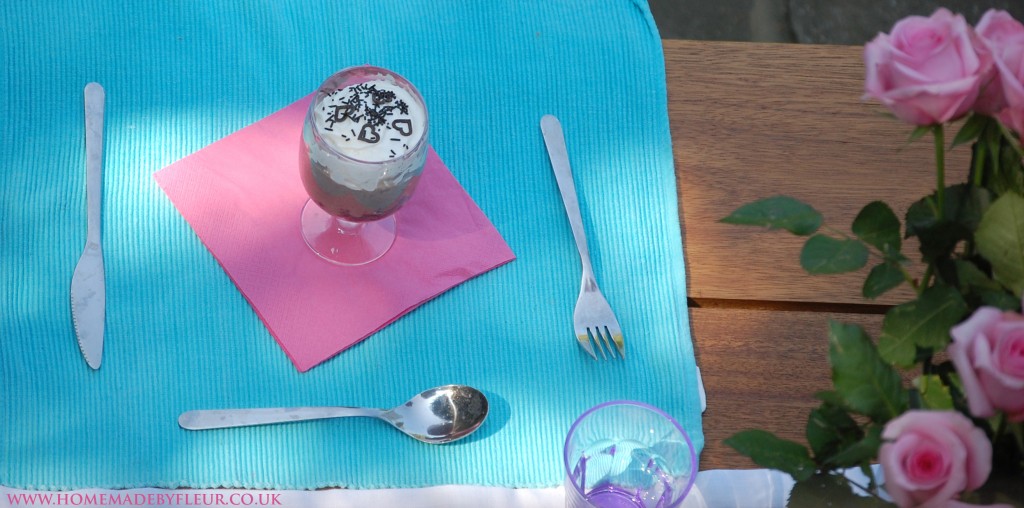 You can find Nigella's Chocolate and Cherry Trifle online on on page 406 of her cookbook 'Feast'.
So all that is left for me to say is, I can't wait to see your entries and look forward to posting a 'partytastic' round up at the end of the month.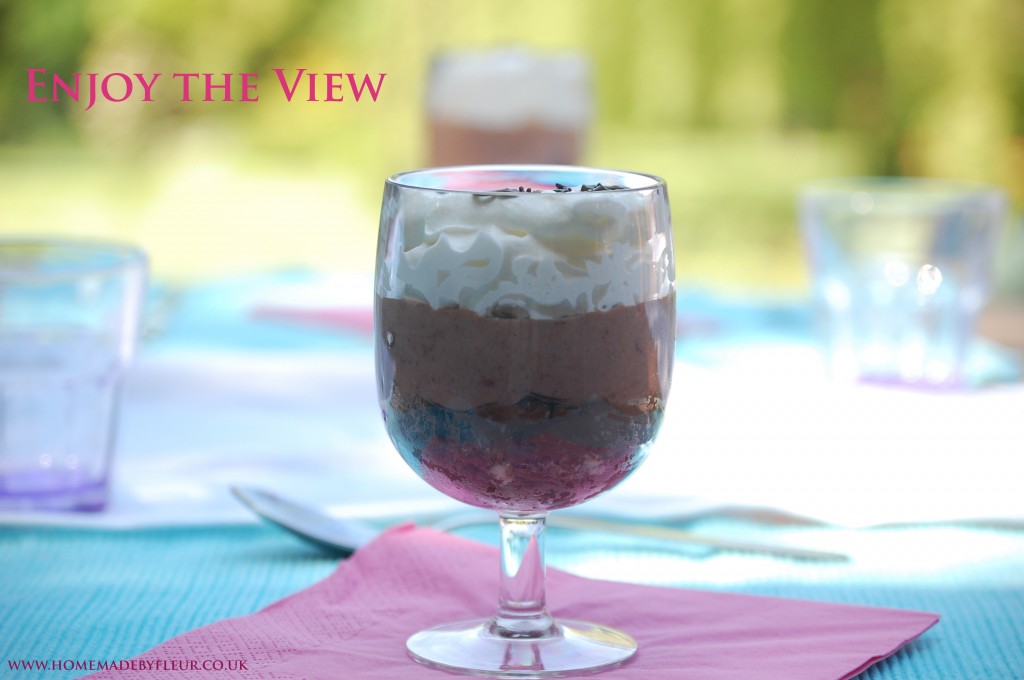 Tagged cherries, Cherry Brandy, chocolate and cherry trifle, chocolate custard, Cream, fatless sponge, forever nigella, Garden Party, jam, Maison Cupcake, Nigella Lawson, Sprinkles, trifle